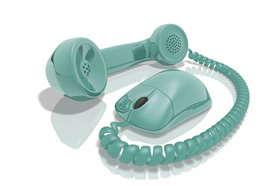 The draft national telecom policy which got unveiled in October 2011 talks in fine print about the deregulation of IP telephony in India. Today when you think of IP and internet based telephony you relate that with broken conversations and delayed responses (a result of packet drops and latency) and don't immediately perceive IP telephony as a dramatic breakthrough that would rewrite the way we communicate. At least not in the Indian market with the state of internet access as it is.
Currently voice calls originated on IP are not permitted to be landed on to a public telephony mobile or landline phone in India. This means that a user is not legally authorized, sitting in India to make a Skype (or for that matter any internet based calling application) call to a telephone in India. Even international calls are subject to legal interception (LIM) requirements and are not generally encouraged.
The same pre conceived notions about internet access quality were what we met with when we thought of launching IP telephony solutions at Reliance Communications. But the fact is, provided you have a certain bare minimum bandwidth (which agreed, in today's India is a luxury) for your internet, voice telephony becomes a breeze and is as good as or even better than your traditional plain old telephony service. It is in fact so good that we had several of our enterprise customers in North America and elsewhere switching to an IP based solution (SIP Trunking) without any loss of quality to make use of the amazing cost savings that IP telephony offers.
But that's the story in the developed world. When can you expect internet speeds to at least reach that bare minimum 256kbps that the government calls a qualifying speed for what is termed "broadband". The national telecom policy unveils a plan to acquire around 175 million broadband customers by 2017. I must presume that a large portion of these customers would be using wireless broadband services like HSPA and LTE.
Now when you read the plans on deregulating IP telephony together with the aforementioned boom in wireless broadband in India what I perceive is the potential for an explosion of the use of IP telephony usage across the country. Telephony operators would not even need a separate voice license to provide voice calling facility to their subscribers. Video calling which over a traditional 3G network (native)is quite painful and is troubled with problems in interoperability, quality and prohibitive costs becomes a much smoother and cheaper proposition when riding over video chatting applications like Skype or Google plus. The line that I want to highlight here is that somebody who possesses a broadband service provider's license can become a full fledged communications provider (Capable of offering services like HD audio and video calls, presence services, conferencing etc) once IP telephony becomes deregulated. While a lot would become clear once the final telecom policy 2012 comes out only time would tell who all would end up with a smile on their face.