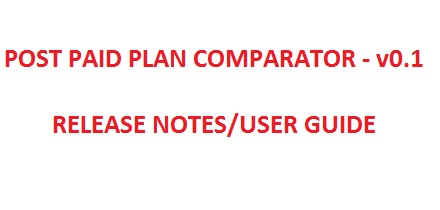 Click Here to Use The Comparator
The idea of a postpaid plan comparator evolved in my mind when I realised how unaware consumers in general are about the savings that they could achieve on their mobile phone bills if they are willing to make the most cost effective decision.
The comparator takes into consideration about 25 different postpaid plans offered by mobile operators such as Airtel, Vodafone, Idea, Aircel, Reliance Communications and MTS. In the beta version only plans which have pay per minute billing have been considered which is why Docomo is conspicuously absent in the Comparator.
The beta version also assumes a certain standard split between the onnet and offent usages. Please feel free to download the comparator in excel and tinker around to suit your specific usage pattern.
In disclaimer I would like to say that this is an honest effort with no operator bias to make the consumer more aware. Please point to me any mistakes that I might have made in calculation, depictions, rates considered etc. All tariff details have been obtained by either calling up the customer care desks or from the website of the respective companies and are up to date as of May 2012. The Tariffs considered in the beta release are of plans available in Karnataka. For specific information and availability of a plan please contact the customer care desk of the operator.
How to Use the Comparator
Advice: Keep your last months postpaid mobile bill in hand
Edit only the blue cells in the table below
Step 1: Enter the amount you pay as rent
Step 2: Enter the amount of free minutes you get every month. If free minutes can be used for Local and STD calling leave this cell blank and fill in the next cell
Step 3: Enter the amount of STD minutes that you get every month.
Step 4: Enter the amount of Local or National SMS that is given free every month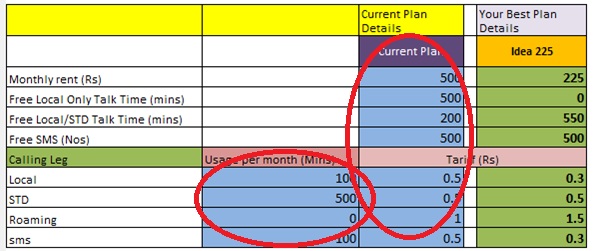 The Usage in minutes per month as well as the cost per minute for that particular calling leg needs to be entered from here on. The exact usage for your past month can be obtained by looking at your last months bill. If call rates for calling to your same operator is different to that for calling another operator enter the rate that is higher.
Step 5: Enter the Usage per month and the cost per minute for local calls made
Step 6: Enter the Usage per month and the cost per minute for STD calls made
Step 7: Enter the Usage per month and the cost per minute for roaming calls made
Step 8: Enter the approximate number of SMS sent and the cost per SMS
After all the entries are made please wait while the Comparator shows the output.
The best plan and the corresponding rental, free talk time, free sms and the calling rates are displayed as shown below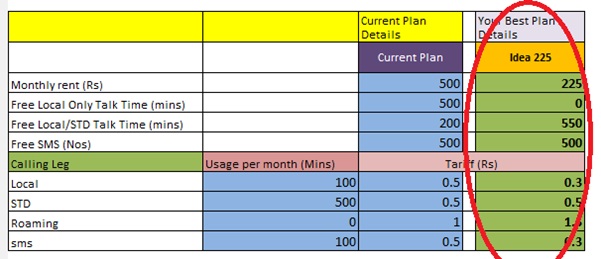 Also the second and third best options are displayed at the bottom of the calculator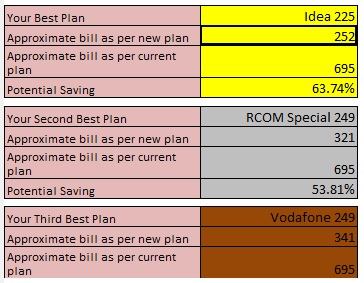 To download the calculator and do your own tinkering click the download button at the bottom of the page
Click Here to Use The Comparator